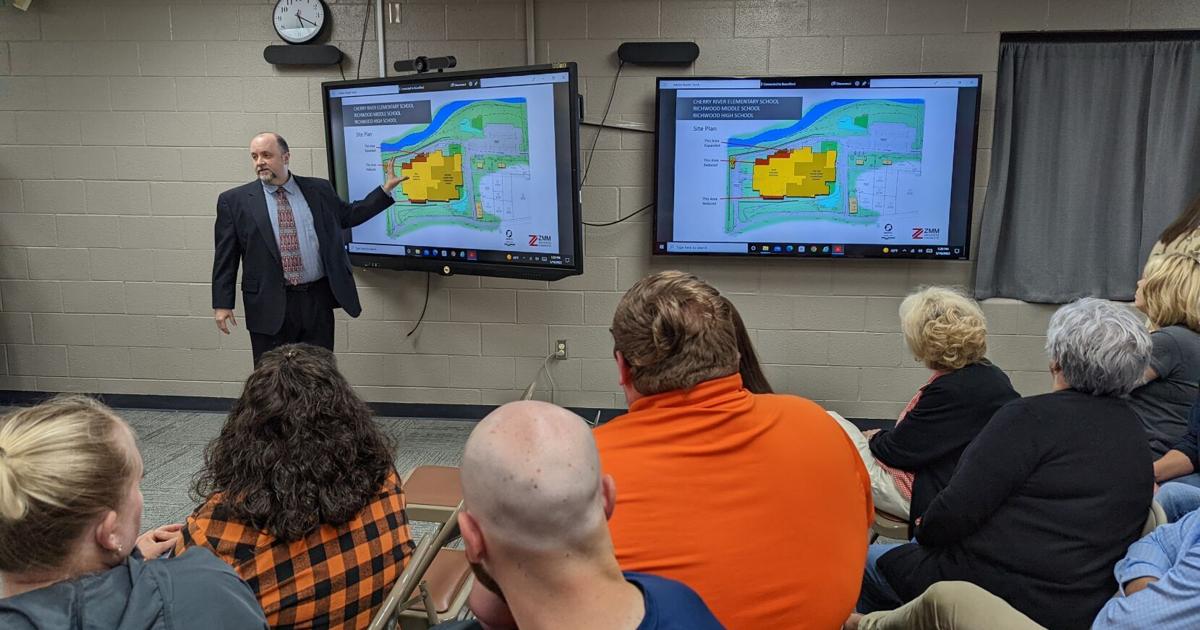 Architects propose to cut staff at Nicholas Schools, cutting construction delays, but with no guarantee cuts will be enough | Education
Nicholas County School Board members are still considering how to scale back their consolidation plans, which include replacing three schools that have not been rebuilt since the June 2016 flood.
This downsizing can further delay school completion, provide fewer amenities upon completion, and even then may not always guarantee completion without millions of additional state dollars.
Among the cuts could be the five sports fields planned at the proposed Glade Creek Business Park Consolidated School near Summersville. Under the yet-to-be-approved plan, the music room, auditorium, and middle and high school gymnasiums could also shrink, and the outdoor dining room and enclosed second-floor track would be gone.
The Richwood project could lose two classrooms and see a shrinking gymnasium, auditorium, music room, dining hall and health clinic.
Architect and ZMM Architects & Engineers co-owner Dave Ferguson has roughly estimated that Richwood's scaled-down project – a major renovation and expansion of an elementary school to also accommodate middle and high school students – could save $3 .8 million.
But the lowest bid for the earlier, larger version of this project was $17 million higher than an earlier estimate.
The Nicholas School Board rejected that offer in March. Chris Campbell, another ZMM architect, said the current money-saving effort would likely delay the Richwood project from being tendered until the fall.
It is unclear to what extent the Glade Creek project would have gone over budget. The board did not offer the previous version after Richwood's bids were so high.
These architects also suggest removing construction deadlines from tender documents, which construction companies review when competing to offer the lowest price for a project.
"I can't tell you what the costs will be when this thing makes an offer in the fall," Campbell said. "I can't tell you if they're going to be higher than they are now, I can't tell you if they're going to be lower."
He and Ferguson said the scaled-down version could cost more in the fall than the larger version in March. But, without the downsizing, Campbell said "there is no hope or chance for additional funding".
The architects said they based this idea on a document from the School Building Authority. The document lists guidelines county school systems should try to meet to potentially secure more funding from the Authority during this time of inflation and supply chain shortages.
Among the guidelines: Removing time restrictions to "avoid excessive costs related to supply chain issues" and trying to reduce projects to "minimum standards" in an Authority handbook and Board policy 6200. State Education, which sets out minimum requirements for building public schools.
The Authority's Director of Architectural Services, Dana Womack, said the Nicholas projects, which are 90% funded by the Federal Emergency Management Agency with a 10% statutory counterpart, "do not fall under this directive. in itself".
"I can't speak for the county," Womack said. "But it seems to me that [if] they do their due diligence and try to provide a school that meets the requirements of the state Department of Education – as all schools should have to do and follow – to keep costs down.
Ferguson said: "We have to follow their guidelines and they told us that." At first he said he couldn't remember who said that. He then said it was from the Authority, but declined to specify who was there.
"They suggested to us that if we follow the guidelines" and don't "build too much," Nicholas might ask for more money from the state, Ferguson said. He noted that it was still not a guarantee of more dollars.
The Governor and Legislature could also intervene through a statutory appropriation.
Nicholas' board was already considering the much smaller Richwood project than Glade Creek, serving about half of Glade Creek's 1,300 students. Richwood therefore has less to lose in budget cuts.
Campbell offered to cut the more than 108,000 square foot Richwood project from 8,500 square feet.
The Nicholas School Board could have approved the scaled-down plan for this K-12 campus on Monday, but board members filed the issue so members would have more time to consider it. Members said they plan to vote on downsizing Richwood on May 23 and on Glade Creek later.
As for Glade Creek, Campbell said he is trying to find a way to reduce the previously planned 372,000 square foot middle, high and vocational school to 320,000 square feet or less.
The 2016 flood damaged three Nicholas Public Schools: Richwood Middle, Richwood High, and Summersville Middle. The school district destroyed them. To this day, students remain in mobile classrooms and a previously abandoned primary school.
Instead of using federal money earmarked for flood recovery to rebuild each school separately, the board planned countywide consolidation.
At first, council members planned to use the money to consolidate the county's public middle and high schools, including the still-operating Nicholas County High and the county's only still-operating vocational training center, the all on a campus in Glade Creek. .
An added benefit of this plan: Summersville Elementary School could be moved from its worn-out building to Nicholas County High School.
The state board of education rejected this unique consolidation plan, and the county council lost a lawsuit in 2017 to save its brainchild. The county council and the state then created the current plan: double consolidations at both Glade Creek and Richwood.
The current plan would consolidate all schools except Richwood Schools into Glade Creek and technically rebuild a new Richwood Middle and Richwood High by significantly expanding and renovating the current Cherry River Elementary School. Cherry River is on the edge of Richwood.
In 2018, the agencies gave the school system about $180 million to accomplish this — 90% from FEMA and 10% from the state. The county council then budgeted at least four times as much for the Glade Creek project as for the Richwood one.
In late January 2020, the school system began receiving the funds, said Melissa Adkins, Nicholas' school system manager. County Schools Superintendent Donna Burge-Tetrick pointed to the interconnected issues of the pandemic, supply chain disruptions, inflation and the Russian invasion of Ukraine for the current delays and l cost escalation.
The downsizing currently envisaged would preserve the double consolidation plan, but on a smaller scale.
At Glade Creek, sports fields and related buildings may have disappeared – the architects suggested bidding the project without these costs included.
Glade Creek's plans included a football field, practice field, soccer field, baseball field, and softball field. Nicholas School Board President Gus Penix said Glade Creek students should continue to use the athletic facilities at Nicholas County High and Summersville Middle if the fields are eliminated.
In the face of the planned downsizing, Penix has consistently championed the board's consolidation plan using federal money. He said the school system negotiations brought in far more money than he would have received to simply rebuild the three flood-damaged schools.
"We didn't have a crystal ball to see what the future held for us," Penix said. He noted that, even with a reduction in staff, there will be "seven schools affected in the county, up from three."
"I don't regret it," he said.