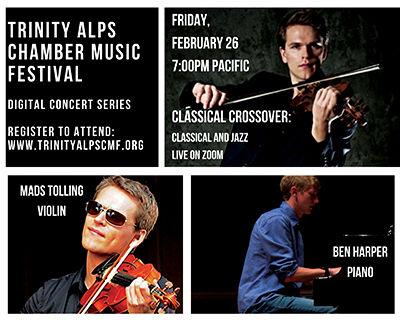 Classical crossover: classical and jazz music performed live | Music
The Trinity Alps Chamber Music Festival will present its third digital concert of 2021, titled "Classical Crossover", at 7pm on Friday February 26th. The program will feature performances by two young musicians whose careers successfully straddle the divide between classical and jazz. , violinist Mads Tolling and pianist Ben Harper.
Participants must register to attend, through the festival website at www.TrinityAlpsCMF.org. Admission is on a sliding payment scale, also accessible through the website.
Hosted on Zoom, the festival's digital concerts have been popular events during a pandemic.
"Our current format for programs emphasizes creating a real live experience," says festival director and program host Ian Scarfe. "Each concert offers not only live musical performances, but also short interviews with our musicians and guest artists from around the world, as well as a chance for the audience to participate in a question-and-answer session and a live chat. . "
Each of the performers began their training by learning the classical repertoire, before branching out into various genres of popular and jazz music. Musical selections will include classic works from the Romantic era, including Brahms, Rachmaninoff and Kreisler. The performers will also each offer performances of jazz standards, works by the late Chick Corea and some of their own original compositions.
Pianist Ben Harper is originally from Trinity County and attended Trinity Alps Chamber Music Festival concerts when he was young. He is one of the first guest musicians in the series to have such a long relationship with the festival.
His performance will feature music by Brahms, which he describes as an example of the idea of ​​"crossing", with "the characteristic use of complex counterpoint and overlapping harmonies … dense chords. and rhythms crossed under a simple melody ". He is currently a student at UC Berkeley.
Violinist Mads Tolling, originally from Denmark, has lived in the San Francisco Bay Area for over a decade and has enjoyed a wide and varied career as a musician, composer and leader of several local groups. He has performed with the Turtle Island String Quartet, Mads Tolling and the Mads Men, and currently performs with Bob Weir and the Wolf Bros. He won two Grammy Awards for his recordings.
More information about the festival and the concert is available at www.TrinityAlpsCMF.org.