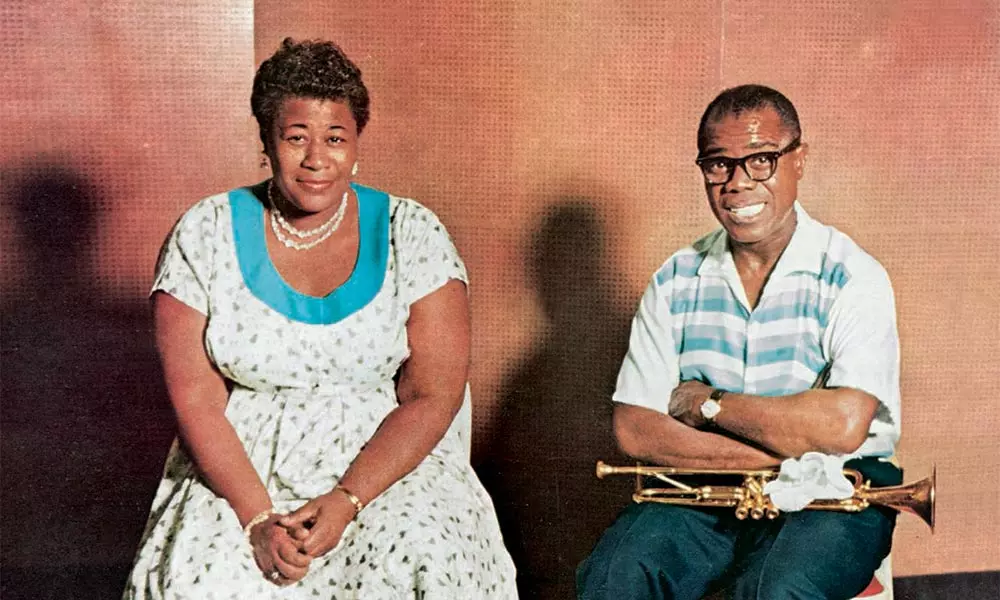 Ella and Louis: the perfect partnership of jazz music
[ad_1]
The old adage that opposites attract could not be more apt in the case of Ella Fitzgerald and Louis armstrong, whose album collaborations for Verve Records in the late 1950s resulted in some of the most beautiful and memorable duets in jazz. Texture-wise, their voices were like satin and a bag – Ella's was refined and caressed the ear with its ultra-smooth contours; Louis was rough, gritty, bark and rasp which was almost rustic in comparison. Sonically, then, Ella and Louis juxtaposed in a way that could best be described as beauty's encounter with the beast, and yet the contrast of their vocal timbres resulted in a musical chemistry that made their recordings compelling. and unforgettable.
to listen Cheek to Cheek: the complete duet recordings on Apple Music and Spotify.
A musical wedding: Ella meets Louis
Louis Armstrong and Ella Fitzgerald first recorded together in 1946, for Decca. By this time, Ella – then 29 – was a rising star of the contemporary jazz scene, having broken out with drummer Chick Webb's band six years earlier. Louis, meanwhile, was 45 and, despite the decline in popularity of New Orleans jazz and the big band swing, had not lost his star status. The pairing of the two singers was perhaps a musical marriage of convenience: the young aspirant seeking credibility and validation in the jazz community by forging a union with a true legend (the man who practically invented scat singing) and someone. one who was considered the most august statesman in jazz. Teaming up with Bob Haggart's orchestra, Ella and Louis performed a duet on the single "You Won't Be Satisfied (Until You Break My Heart)", a smoochy ballad, backed up by the liveliest and most playful "The Frim Fram Sauce ". Despite the record's popularity, the duo didn't record in the studio again (largely because of Armstrong's busy route) until four years later, when they cut "Can Any One Explain (No No No!) ​​"And" Dream A Little Dream Of Me "for their next single, accompanied by the orchestra of Sy Oliver.
Three more Ella and Louis singles were released at sporadic intervals over the next four years, but it wasn't until 1956, when jazz producer and impresario Norman Granz put the pair in the studio for a project of 'album, that their potential as collaborators was fully realized.
Granz was the mastermind behind the successful Jazz At The Philharmonic concert series, which he first started in 1944, then later evolved into star-studded package tours that eventually ventured into Europe and even in Japan. In 1956, he founded a new label called Verve, specifically to showcase the talent of Ella Fitzgerald, which he had been running since the 1940s. Right after Verve's founding, Louis Armstrong's contract with Columbia had expired and his manager, a tough and uncompromising con artist called Joe Glazer, negotiated a short-term deal with the new label by Granz for the New Orleans trumpeter / singer.
Recording on an equal footing: a high-profile summit
But Pops' debut album for Verve was not, as some had predicted, an album recorded in tandem with his popular concert band, the All-Stars. Instead, Granz, who intended to conquer mainstream America, wanted to reunite Armstrong with the soft-spoken girl he had first performed as a duet with in 1946. But now she was a woman of 39 when Armstrong was 55. Ten years later, Ella and Louis were now recording almost on a level playing field. It was a high-profile peak where The First Lady Of Song – who had sold 100,000 copies of her debut album Verve, Ella Fitzgerald sings Cole Porter's songbook, in the first month of its release earlier in the year – met the venerable ambassador of jazz.
Their inaugural recording session of the album together was captured for Verve on August 16, 1956, the day after Ella and Louis performed at one of Granz's most memorable JATP concerts, at the Hollywood Bowl. Obviously, Ella Fitzgerald had a soft spot for Louis Armstrong. She was a longtime fan and wanted to make sure the jazz veteran felt at home and didn't step out of his comfort zone. According to Norman Granz, she relies on Armstrong on all aspects of the record and is just delighted to be in the studio with her idol: "When she made the album with Louis, she insisted that he select the songs, and she sang them all. in her keys, even though they weren't the right keys for her.
The only problem that arose was that due to the trumpeter's intense and seemingly perpetual touring schedule, the sessions were held at the last minute, so there was no possibility of rehearsal. Despite everything, Ella and Louis – supported by the super-slick Oscar peterson trio – excelled, Fitzgerald apparently unaffected by the vocals in Armstrong's keys and Satchmo performing superbly on material he was unfamiliar with.
The most beautiful duo in jazz: Ella and Louis To Porgy And Bess
The first album came out as Ella and Louis, in November 1956, and with its impeccable blend of show melodies and standards, it quickly gained acclaim and became a bestseller. Given their success, it's no surprise that Granz brought the duo together for a follow-up – this time a massive double album recorded over four days in the summer of 1957 – called Ella and Louis again, which again featured the Oscar Peterson trio. Stylistically, … Again continued where their debut album left off, drawing on material from The Great American Songbook. What was different, however, was that seven of the 19 tracks in the set were solo performances (four from Armstrong, three from Fitzgerald).
Later that same year, the couple reunited for an LP version of orchestrated material from the opera by George and Ira Gershwin. Porgy & Bess, published in 1958 by Verve. This would be the last time Fitzgerald and Armstrong would record together, but over the years they would perform on stage together on several occasions. Armstrong obviously loved the music the duo had recorded, and in 1968, while touring England, he appeared on the long-running BBC radio show. Disks of the Deserted Island, on which each guest is invited to choose eight precious recordings that would give them comfort if they became castaways. Among his choices, Armstrong selected "Bess, You Is My Woman Now," his 1957 duet with Ella from their Porgy & Bess album.
What makes the couple's duets so pleasing to the ears is the conversational informality of their vocal exchanges. Even though there was a 19-year age difference between them, their affinity is such that any generational barrier seems to instantly dissolve. Indeed, the cover photo of their debut album – an informal photo of Ella and Louis sitting side by side in the studio in their summer outfits – shows just how comfortable they were with each other. other.
But Ella Fitzgerald was no above making a parody of her hero and had put Louis Armstrong's husky croak to a T-shirt, like anyone who heard her wonderful 1960 live album, Ella in Berlin, on which she invokes her wit on an impromptu version of Satchmo's favorite "Mack The Knife".
Louis Armstrong died in 1971, at the age of 69, and Ella Fitzgerald attended his funeral as an honorary bearer, alongside celebrities like Frank Sinatra, Duke Ellington and Bing crosby. Later, in the twilight of her career, during the 1980s, she revisited some of the songs she had recorded with Armstrong in the 1950s, including "Let's Call The Whole Thing Off", "A Foggy Day", " Moonlight In Vermont "and" They Can't Take This From Me. "
Ella and Louis were a musical marriage in heaven, and today, over 60 years later, their recordings have lost none of their appeal, charm and sparkle. One listen Cheek to Cheek: the complete duet recordings instantly confirms it. In addition to the three Verve albums the pair recorded together, it features all of their Decca singles, as well as live material recorded at the Hollywood Bowl and a collection of rare alternate takes and false starts. Nothing less than a cornucopia of wealth, it represents the finest duo in jazz.
Cheek to Cheek: the complete duet recordings can be purchased here.
[ad_2]