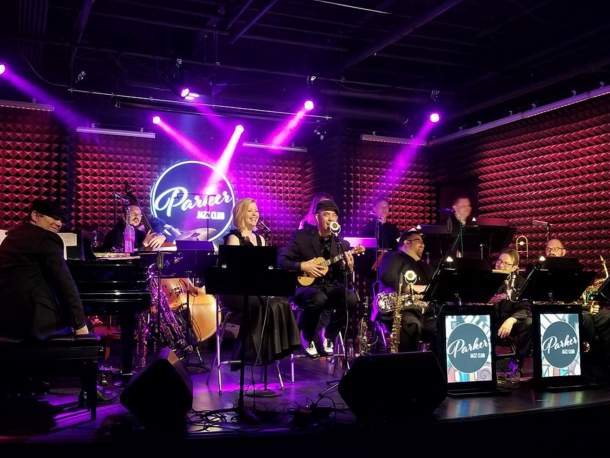 The Parker Jazz Club reopens its doors with an exceptional program this year; special event on August 26
[ad_1]
Located in the heart of the thriving downtown Austin warehouse district, Parker Jazz Club (117 W. Fourth St. # 107b, Austin, TX 78701) is one of the city's main concert halls. Since opening in 2018, the state-of-the-art listening room has hosted jazz legends including the Count Basie Orchestra, Joey DeFrancesco, Kenny Garrett, Curtis Stigers, Doug Lawrence, Jerry Weldon, Louis Hayes, Butch Miles, Nestor Torres, Tom Scott, Herlin Riley, Eric Reed and many more. And you never know who might be on – Wynton Marsalis and Kamasi Washington are known for performing impromptu sets on the Parker stage. But the venue is also revered for its unmistakable Parker Jazz Club House Band, which draws a dedicated crowd every weekend. For a 360-degree virtual tour of the venue, please click here. For more information and additional programming, visit parkerjazzclub.com.
In addition to announcing exceptional lineup over the coming months, the Parker Jazz Club is hosting a VIP happy hour for the media and the music industry on Thursday, August 26, 2021 from 6 p.m. to 8 p.m. to space while enjoying a special performance by the Parker Jazz Club House Band. Small bites and drinks will also be offered. Media can confirm their attendance by sending an email to [email protected]
"I wanted something that you would see if you went to New York and had a night out at Dizzy's Club, or
went to London and visited Ronnie Scott's, or went to Paris – a truly timeless and world class place, "said Kris Kimura, founder and owner of Parker Jazz Club. "But also, it couldn't be too stuffy because it's Austin. The people of Austin are cool. We kind of wanted to mix this upscale stuff with this hip, typically Austin stuff, and I feel like we hit the nail on the head.
The Parker Jazz Club has carefully designed and refined "every little detail" to enhance the signature privacy and ambiance of the acclaimed basement lounge. With talented performers appearing Wednesday through Sunday each week (see schedule below), the Parker Jazz Club also offers a series of Jazz Therapy shows every Tuesday evening from 8 p.m. to 9:30 p.m., welcoming everyone. for an evening of live jazz music that is good for your heart and soul. Tickets cost $ 10. In addition, all health professionals and teachers / educators can attend the Tuesday evening shows free of charge with a valid ID.
"Our Jazz Therapy series was launched during the pandemic (after the club reopened to the public) as a thank you to these phenomenal frontline workers who were helping the community navigate COVID," Kimura said. "This summer we decided to include educators for similar reasons. Plus, this weekly show provides an easy, inexpensive point of access to the club for guests, with $ 10 coverage. The "therapy" aspect of this series shows how just listening to jazz music is actually quite healthy and helpful in lowering blood pressure and relieving stress. Jazz Therapy was designed as a way for us to give back.
While following all CDC and local guidelines, the Parker Jazz Club has remained flexible to meet health guidelines during the pandemic and will continue to enforce the strictest safety measures. Kimura has expanded its cutting-edge live streaming schedule over the past year to share content on Parker's website for each performance. It's also an optimal opportunity to capture every live show with a well-crafted video recording, another key part of the listening room.
"Jazz is a living, breathing art form with those beautiful fleeting improvisational moments that just need to be experienced," Kimura said. "From the start, capturing and archiving the ongoing musical history at Parker was important to me, and bringing in the best live production was as vital as the sound and lighting design in the club. We recorded every set. performed here. The Pandemic has really increased interest in our ongoing livestream, and we're really proud to be bringing live jazz to the world from our humble stage in Austin. "
Named after the young son of award-winning jazz singer and multi-instrumentalist founder / owner Kimura, the Parker Jazz Club started with a basement and a dream. With the support of investors who shared his vision, the Austin musician set out to build a world-class venue on par with renowned jazz clubs such as Birdland, Blue Note and Yoshi's. The Parker Jazz Club was established to contribute to the appreciation, culture and education of Austin, with Kimura's confident approach "if you build it, they will come" to create a dedicated performance space in direct. An upscale lounge for 21+ at night, the venue can also be rented out for private events on weekdays.
Indeed, an impeccable sound design, an electric stage curtain, a hi-fi video streaming studio, a cozy green room, incredible household equipment and a large framed photo of Kimura's late local mentor, Tony Campise, speak for themselves. all from a new venture that doesn't sound like a concept as much as somebody's dream, "said the Austin Chronicle.
Others in the industry rave about Kimura's passion for excellence. "I don't think I've ever known a musician so involved in opening a club," said Doug Lawrence, tenor saxophone soloist with the legendary Count Basie Orchestra.
What draws guests from everywhere is the club's own Parker Jazz Club House group, led by Kimura. The group includes Ryan Davis (piano), Ben Triesch (bass), Jeremy Bruch (drums) and Kimura (woodwind / vocals), along with veteran sound and lighting engineer Mac McDonnell. Kimura's long-term ties to the local and national jazz community allow for a constant flow of notable acts. While still providing the warmth and ambiance of a neighborhood bar to its regular patrons, the Parker Jazz Club keeps the entertainment fresh and exciting.
"Cool, warm, classic, timeless" – Parker Jazz Club is not only a musical destination, it also offers top-notch entertainment with a high-end lounge touch. They introduce limited but deliberate food options to appeal to customers 'before' and 'after dinner'. The menu also includes local craft beers, a varied menu of craft cocktails, an extensive wine list and a sophisticated emphasis on fine scotch and whiskey from around the world.
"There are venues that accommodate music and musicians – however, very few venues are designed and literally built for this," famed Austin musician Alex Marrero said. "Every microphone, cable, speaker, wire, cabinet, table and chair has been meticulously hand-picked to serve the music. I've never seen anything like it in town for a room of this size. The reason is that it did not exist until the Parker Jazz Club opened its doors.
The program for the next few weeks includes:
July 28: The Copa Kings – 8 p.m.
July 29: Gerry Gibbs and Thrasher People – 8 p.m.
July 30: Parker Jazz Club House Band – 8 p.m. & 10 p.m.
July 31: Parker Jazz Club House Band – 8 p.m. & 10 p.m.
August 3: Jazz Therapy – 8 p.m.
August 4: Mike Sailors and the Parker Jazz Club Hot 5 p.m. – 8 p.m.
August 5: Parker Jazz Club House Band – 8 p.m.
August 6: Parker Jazz Club House Band – 8 p.m. and 10 p.m.
August 7: Parker Jazz Club House Band – 8 p.m. and 10 p.m.
August 10: Jazz Therapy – 8 p.m.
August 11: Wasabi Big Band with Jennifer Johnson – 8 p.m.
August 12: Mike Sailors and the Higher Calling Orchestra – 8 p.m.
August 13: Parker Jazz Club House Band – 8 p.m. and 10 p.m.
August 14: Parker Jazz Club House Band – 8 p.m. and 10 p.m.
August 15: Adrian Ruiz: Farmer's Market Tribute to Art Farmer – 6 p.m.
August 17: Jazz Therapy – 8 p.m.
August 18: Parker Jazz Orchestra conducted by Mike Sailors – 8 p.m.
August 19: Monte Warden and the Dangerous Few – 8 p.m.
August 20: Marquis Hill – 8 p.m. / Parker Jazz Club House Band – 10 p.m.
August 21: Marquis Hill – 8 p.m. / Parker Jazz Club House Band – 10 p.m.
August 24: Jazz Therapy – 8 p.m.
August 25: Aubrey Logan – 8 p.m. & 10 p.m.
August 26: The Copa Kings – 8 p.m.
August 27: Parker Jazz Club House Band – 8 p.m. and 10 p.m.
August 28: Pulkingham Layne CD / Vinyl "D Shack" Album release – 6 p.m. / Parker Jazz Club House Band – 8 p.m. and 10 p.m.
[ad_2]