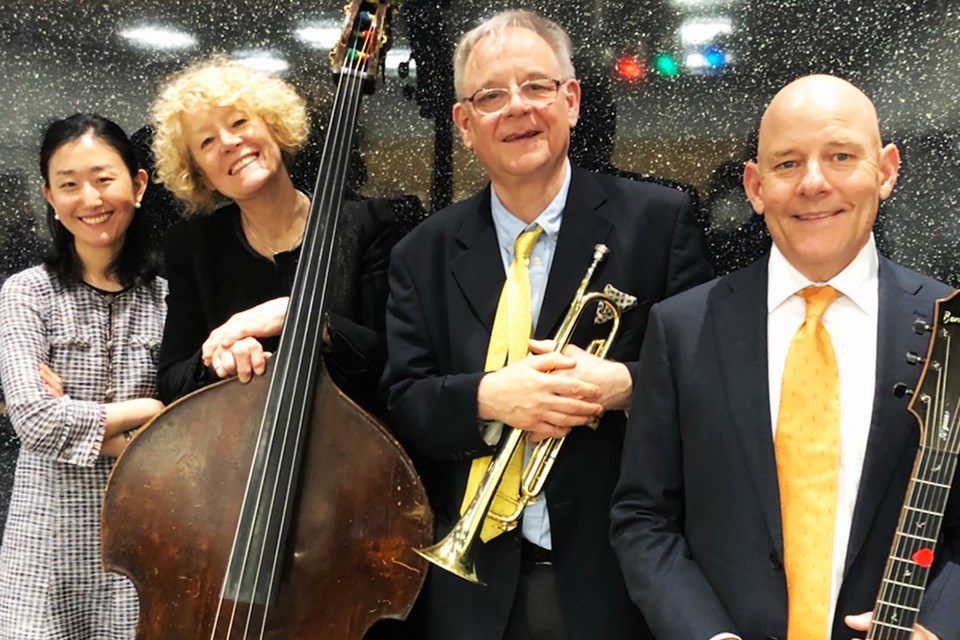 Trumpet player Chris Hodgkins releases three albums at Pizza Express Jazz Club
In November and December of last year, the Chris Hodgkins Group completed a 17-date tour with support from Arts Council England, performing music by their tribute to Humphrey Lyttelton project, a celebration of the legendary BBC trumpeter, conductor and broadcaster in what would have been his 100th birthday year.
NowSalute to Humphrey Lyttelton album, more the International Quartet by Chris Hodgkins album, Scalloped with trumpets(recorded after their 2019 tour), and an archival reissue of Vic Parker At The Quebec Hotel + Chris Hodgkins + Jed Williams (captured live at the Quebec Hotel, Cardiff in January/February 1976) will all be released on this unique concert May 12.
The group for the launch is Chris Hodgkin, Henry Lowther and smart nick (trumpets), Alison Rayner (bass), Birch Buster (drums), Charlotte Glasson (baritone sax/clarinet/whistle), Alex Clark (tenor sax/clarinet), Diane McLoughlin (alto sax/soprano sax), Marc Bassey (trombone) plus special guests, Andrea Vicar piano and guitarist Phil Robson. The music is made up of a mixture of standards and four originals specially written for the tour and was recorded immediately after the tour.
Rising to prominence in the early 1950s, Lyttelton's single "Bad Penny Blues" was the first ever British jazz record to reach the top 20. Throughout his career, he led the way with various presentations of jazz music and unique collaborations. In 2002 he performed (to 42,000) and recorded with Radiohead, engaging an entirely new audience with his music and providing a rare platform for other jazz musicians to perform on the world stage.
As well as his influential role as a leader of the jazz revival, Lyttelton, affectionately known as 'Humph', was also a much-loved broadcaster, hosting BBC Radio 2's 'Best Of Jazz' program for many years, as well as BBC Radio 4. extremely successful and still running comedy show) I'm sorry, I have no idea (later hosted by Jack Dee).
For more information and tickets, visit www.pizzaexpresslive.com/whats-on/chris-hodgkins